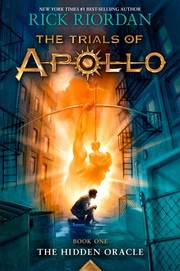 F Rio
The hidden oracle
Los Angeles ; New York : Disney-Hyperion, 2016.
376 pages : illustration ; 22 cm.
"After angering his father Zeus, the god Apollo is cast down from Olympus. He must learn to survive in the modern world until he can somehow find a way to regain Zeus's favor"-- Provided by publisher.
No Reading Program: Level 5.1 MG / 13.0 Points / 181885.
Available
Regular
2 copies available at Van Alstyne Middle School
| | |
| --- | --- |
| ISBN: | |
| LC Call No: | PZ7.R4829 Hi 2016 |
| Dewey Class No: | [Fic] 23 |
| Author: | |
| Title: | |
| Edition: | First edition. |
| Physical: | 376 pages : illustration ; 22 cm. |
| ContentType: | |
| MediaType: | |
| CarrierType: | |
| Series: | |
| Summary: | "After angering his father Zeus, the god Apollo is cast down from Olympus. He must learn to survive in the modern world until he can somehow find a way to regain Zeus's favor"-- Provided by publisher. |
| Study Program: | |
| Subject: | Apollo,--(Deity)--Juvenile fiction. |
| Subject: | |
| Subject: | |
| Link: | |
| Link: | |
| Field | Ind | Subfield | Data |
| --- | --- | --- | --- |
| 001 Control No | | | 9687 |
| 005 LastTransaction | | | 20180307150927.0 |
| 008 Data Elements | | | 160115s2016 caua c 000 1 eng |
| 010 LCCN | | $a Record content licensor | 2015045235 |
| 020 ISBN | | $a ISBN | 978-1-48473274-8 |
| 035 System Ctrl No | | $a System control number | (DLC) 2015045235 |
| 040 Cataloging Src | | $a Original cataloging agency | DLC |
| | | $b Language of cataloging | eng |
| | | $e Description conventions | rda |
| | | $c Transcribing agency | DLC |
| | | $d Modifying agency | NjBwBT |
| | | $d Modifying agency | IMmBT |
| | | $d Modifying agency | NjBwBT |
| 042 Authentication | | $a Authentication code | lcac |
| | | $a Authentication code | pcc |
| 049 | | $a | JRSA |
| 050 LC Call No | 00 | $a Classification number | PZ7.R4829 |
| | | $b Item number | Hi 2016 |
| 082 Dewey Class No | 00 | $a Classification number | [Fic] |
| | | $2 Edition number | 23 |
| 100 ME:PersonalName | 1 | $a Personal name | Riordan, Rick, |
| | | $e Relator term | author. |
| 245 Title | 14 | $a Title | The hidden oracle / |
| | | $c Statement of responsibility | Rick Riordan. |
| 250 Edition | | $a Edition statement | First edition. |
| 264 ProductnNotice | 1 | $a Place of prod/dist/manuf. | Los Angeles ; |
| | | $a Place of prod/dist/manuf. | New York : |
| | | $b Name of prod./pub./dist./man. | Disney-Hyperion, |
| | | $c Date of prod/dist/manuf/copyrt | 2016. |
| 300 Physical Desc | | $a Extent | 376 pages : |
| | | $b Other physical details | illustration ; |
| | | $c Dimensions | 22 cm. |
| 336 ContentType | | $a Content type term | text |
| | | $2 Source | rdacontent. |
| 337 MediaType | | $a Media type term | unmediated |
| | | $2 Source | rdamedia. |
| 338 CarrierType | | $a Carrier type term | volume |
| | | $2 Source | rdacarrier. |
| 490 SeriesStatement | 0 | $a Series statement | The trials of Apollo ; |
| | | $v Vol. no./sequential designatn | 1. |
| 520 Summary | | $a Summary, etc. note | "After angering his father Zeus, the god Apollo is cast down from Olympus. He must learn to survive in the modern world until he can somehow find a way to regain Zeus's favor"-- |
| | | $c | Provided by publisher. |
| 526 Study Program | 0 | $a Program name | Accelerated Reader AR |
| | | $b Interest level | MG |
| | | $c Reading level | 5.1 |
| | | $d Title point value | 13.0 |
| | | $z Public note | 181885. |
| 600 Subj:Name | 00 | $a Personal name | Apollo, |
| | | $c Other associated words | (Deity) |
| | | $v Form subdivision | Juvenile fiction. |
| 650 Subj:Topic | 0 | $a Topical term | Gods, Greek |
| | | $v Form subdivision | Juvenile fiction. |
| 650 Subj:Topic | 0 | $a Topical term | Mythology, Greek |
| | | $v Form subdivision | Juvenile fiction. |
| 852 Holdings | | $a Location | VAMS |
| | | $h Classification part | F Rio |
| | | $p Barcode | 2016904 |
| | | $9 Cost | $19.99 |
| 852 Holdings | | $a Location | VAMS |
| | | $h Classification part | F Rio |
| | | $p Barcode | 2016905 |
| | | $9 Cost | $19.99 |
| 856 ElectronicLocat | 4 | $3 Materials specified | Cover image |
| | | $u Uniform Resource Identifier | https://covers.openlibrary.org/b/id/7442820-M.jpg |
| 856 ElectronicLocat | 4 | $3 Materials specified | Author photo |
| | | $u Uniform Resource Identifier | https://covers.openlibrary.org/a/olid/OL30765A-M.jpg |